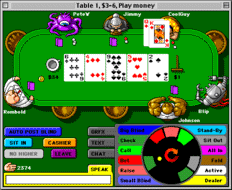 There are several variations of the card game "poker". One of them, commonly referred to as "Texas Hold'em", is played with only two cards for each participant. A hand is formed as the best five-card combination out of those two and five open cards.

I developed this game for the poker site PokerRoom and this image is a scaled-down version of what the first release looked like. Later on I made the playing window larger, added a few features and changed the viewing angle a little.

It had a good run, but eventually the time came to retire it. Nowadays it has long since been phased out in favor of slicker and more feature-rich poker versions, such as this Texas Hold'em, written by some of my co-workers. I keep this page on my site mainly for historical reasons.